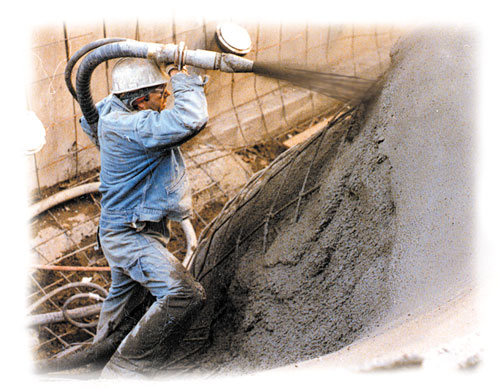 Shotcrete, or spraying concrete, can be done with most REED Concrete Pumps and all REED Gunite Machines.

Both shotcrete methods are used on applications such as:
1. Concrete Repair (Bridge Repair, Infrastructure Repair, Etc)
2. Mine Support (sprayed concrete walls and ceilings)
3. Swimming Pool Construction - Sprayed Concrete Shells
4. Tunnel Construction
5. Parking Garage Repair and Concrete Building Repair
6. Retaining Wall Construction
7. Foam Panel Shotcrete Building Systems
8. Refractory Material Spraying - Refractory Lining
9. Skateboard Park Construction
10. Rockscaping
11. Artificial Rock Construction
12. Concrete Wall Construction
13. Zoo Construction
14. Slope Stabilization
15. Concrete Dome Construction
16. Straw Bale Construction
17. V-Ditch Construction and Water Containment
18. Canal Lining & Re-Lining

With "wet-process shotcrete" a low-slump concrete mix is pumped with a Concrete Pump to the end of the pipeline where a special "shotcrete nozzle" is attached. That shotcrete nozzle introduces compressed air to the concrete. This compressed air typically comes from a 165-185cfm air compressor - sold separately. The addition of the compressed air adds velocity to the concrete so it sprays out of the nozzle. This velocity, combined with the low slump of the shotcrete mix, allows the concrete to be sprayed on slopes, vertical walls, and overhead.
Click HERE to see a video of "wet process shotcrete"
---
Gunite, also known as "dry process shotcrete", uses a different process than the concrete pumps listed above. Gunite machines use air pressure to convey dry material from the machine through the hose to the nozzle where water is added.
Click HERE to see a video of "dry process shotcrete" (Gunite)